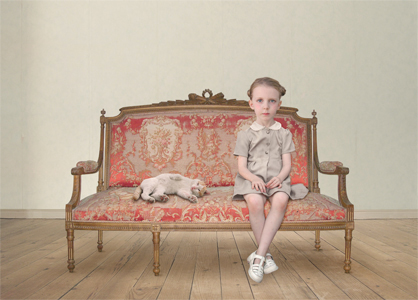 http://www.lorettalux.de/
First, let me say- it's been way too long since I came across an artist with a decent website. THANK YOU Loretta Lux. Your photography is well worth it.
Anyway, I think it's probably very obvious why I am enthralled by Lux's portraits of children. The content completely captures my heart for two reasons.
Reason one, and possibly of less importance: working with children
Reason two: Working with children
strangely
.
It's obvious that she hasn't photographed these kids in an attempt to show the world her love for the young aliens of our society. I feel like this artist and I would have a lot to talk about. Which is to say that the way she photographs children is how I generally
feel
about kids when I am around them: Disturbed, uncomfortable, awkward, because I find them a little bit eerie. For the first time I can say that a work of art does not only affect me very deeply in an emotional way, but also that it
speaks
to me. Something that sounds so absurd until it is experienced. And it's an important experience. This series is helping me resolve some serious issues I have with childhood and motherhood that are so
unresolved
for me as a 21 year old female. Obsessions.
Her photographs have obviously been manipulated, but this certainly does not take away from what is going on through her collections.
Love love love it. LoveloveLoretta.
endpost.
sketchsteph/